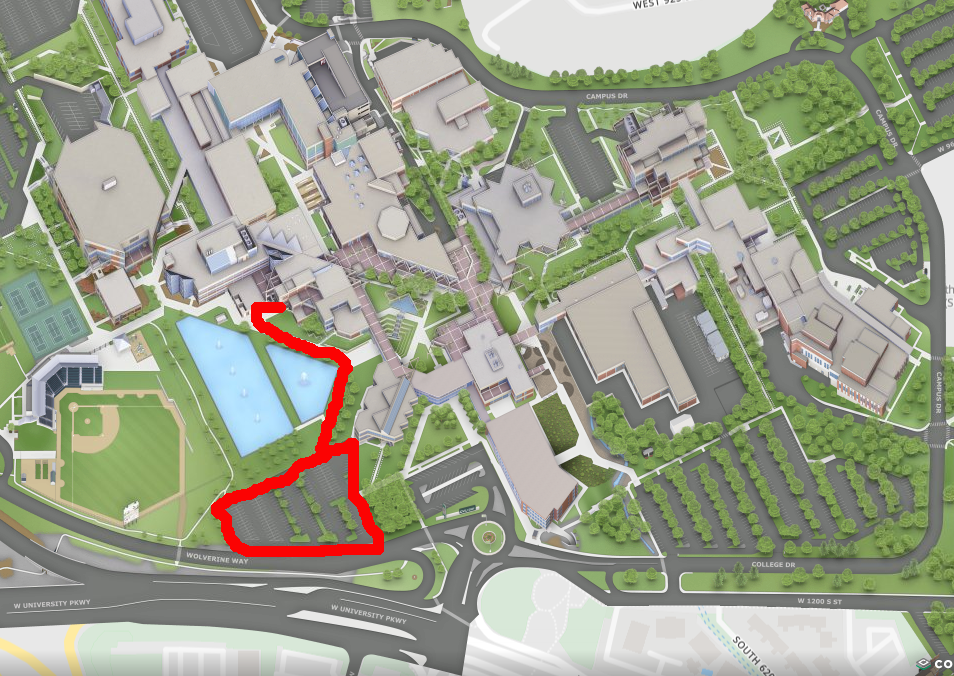 We are grateful to Utah Valley University for hosting our astronomy club. Our meetings take place in the planetarium located in the Pope Science building at UVU. We recommend parking in parking lot L1, which is east and south of the baseball park.
Walk north from the parking lot towards the large ponds and fountains. They will be empty in the cold months.
Follow the sidewalk in the "V" shape around the pond. Once you get to the end of that sidewalk you will see on your right an external staircase. You can choose to take that staircase to the top floor and enter the building there. If you do, you will enter very close to the planetarium, room 206 on the right.
If you would rather use an elevator, enter the doors directly under the staircase (there are 2, use the one on the right). Follow the hall down to the 3 story atrium with a Foucault pendulum. You should find to your left through a door the elevators and stairs.
Use the elevator to the top floor and turn left when you exit. You will almost immediately turn left again down a hallway. A short way down that hall on the left is room 206. There is a planetarium sign above the door. We will mostly meet in the planetarium, but we will also sometimes meet across the hallway. Please watch for a sign indicating where the meeting will take place.